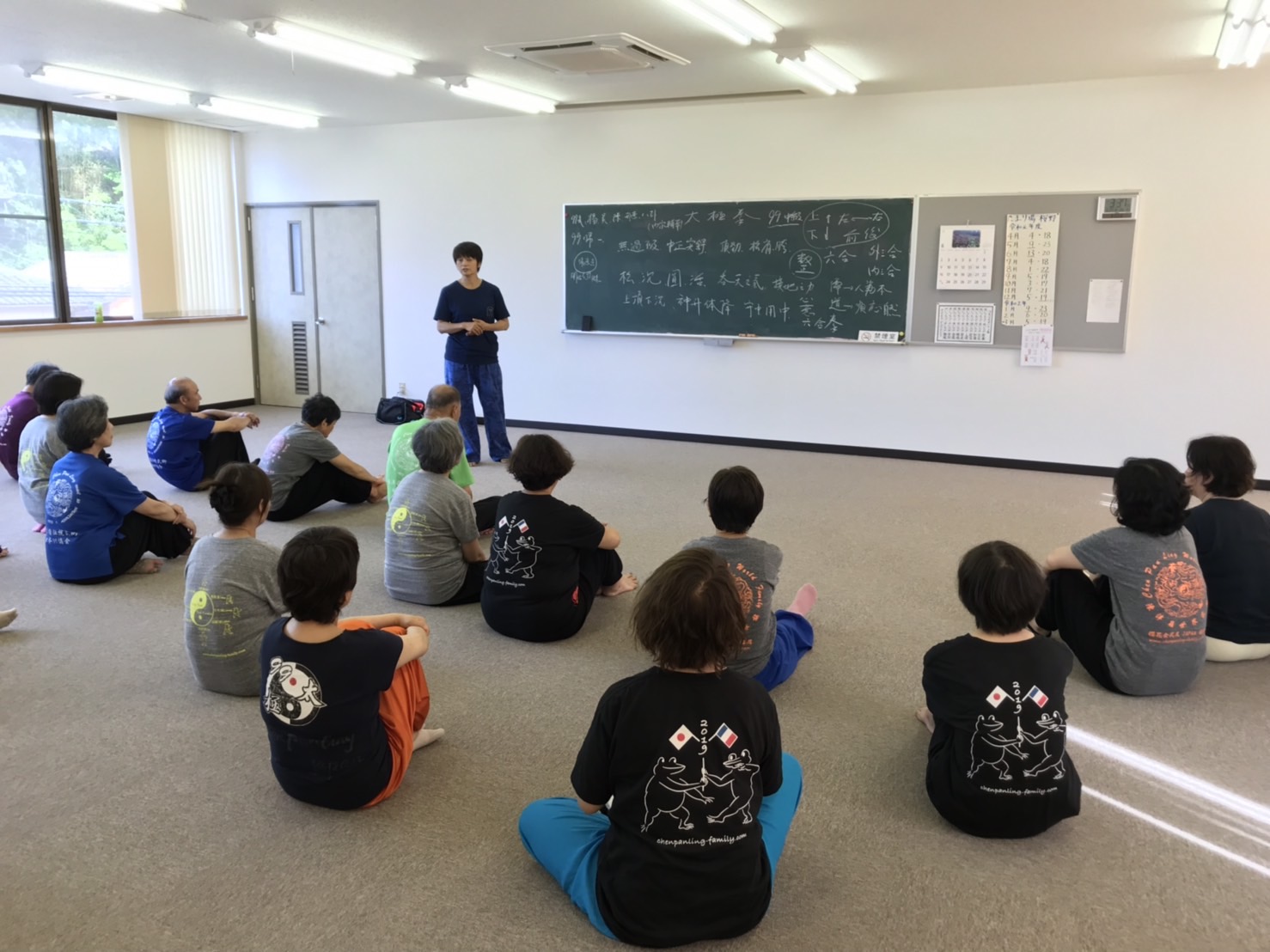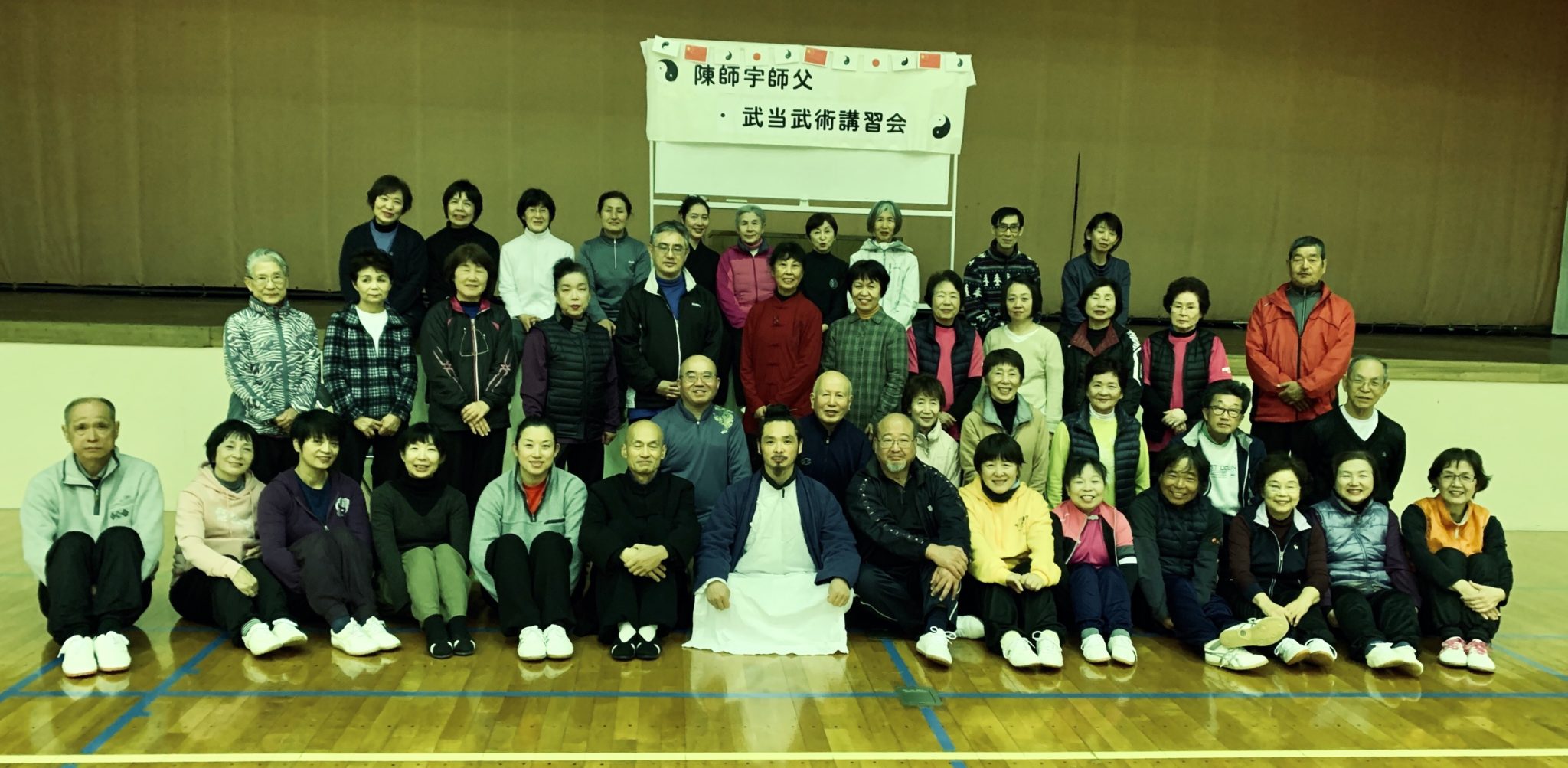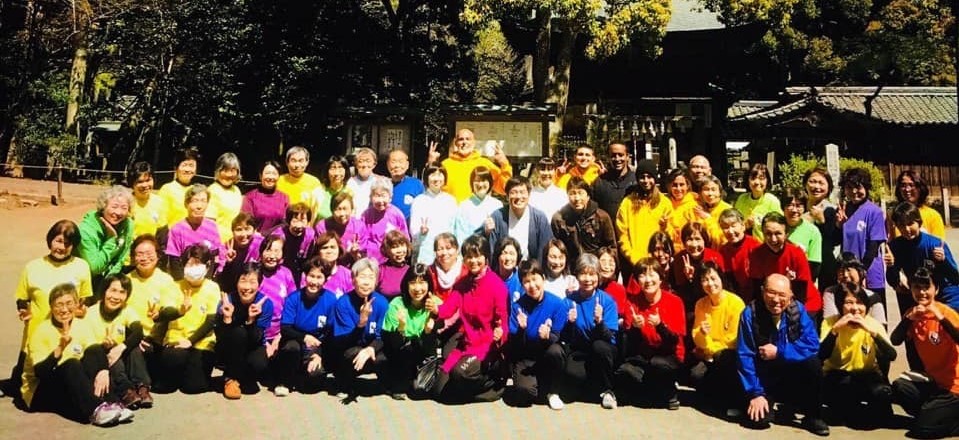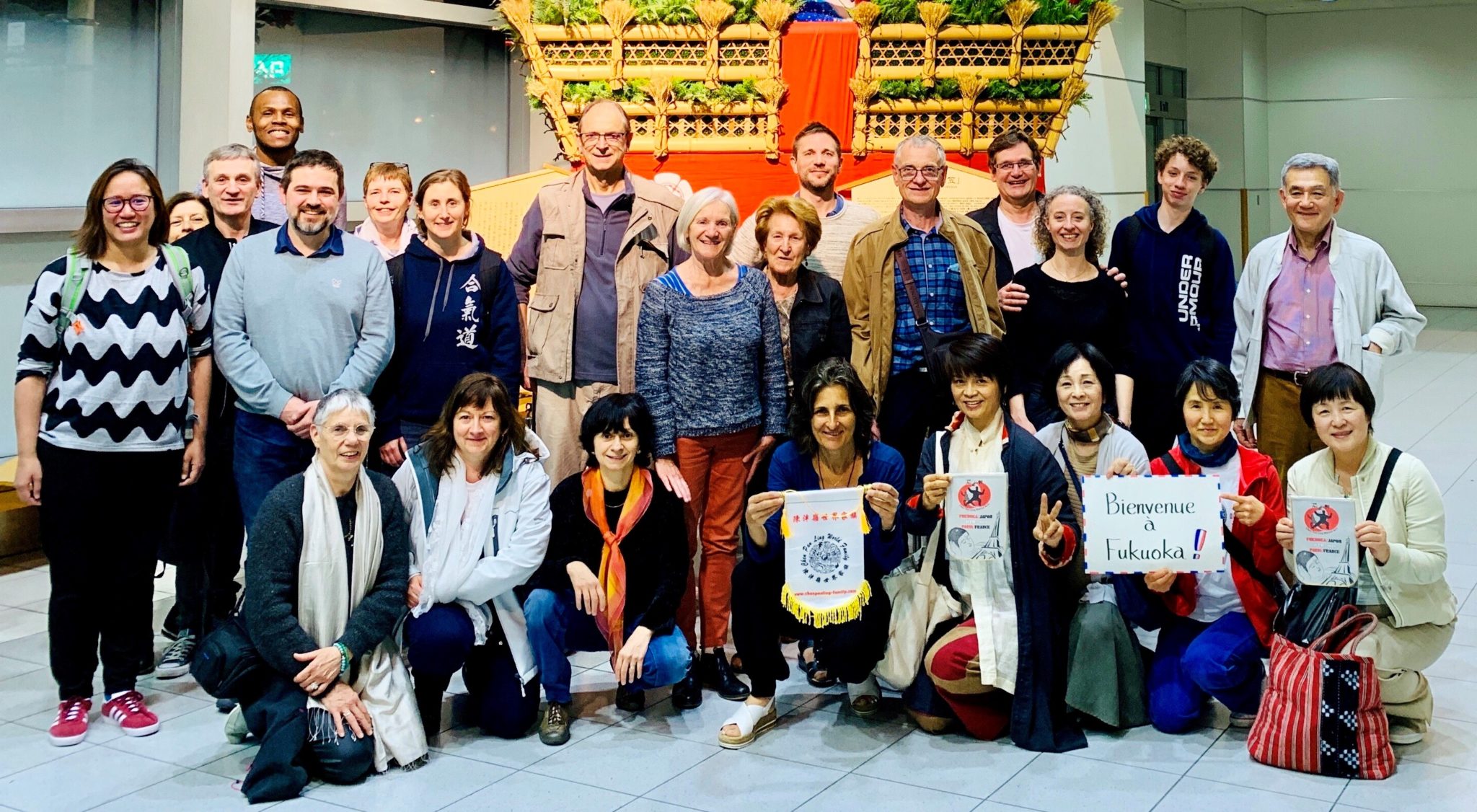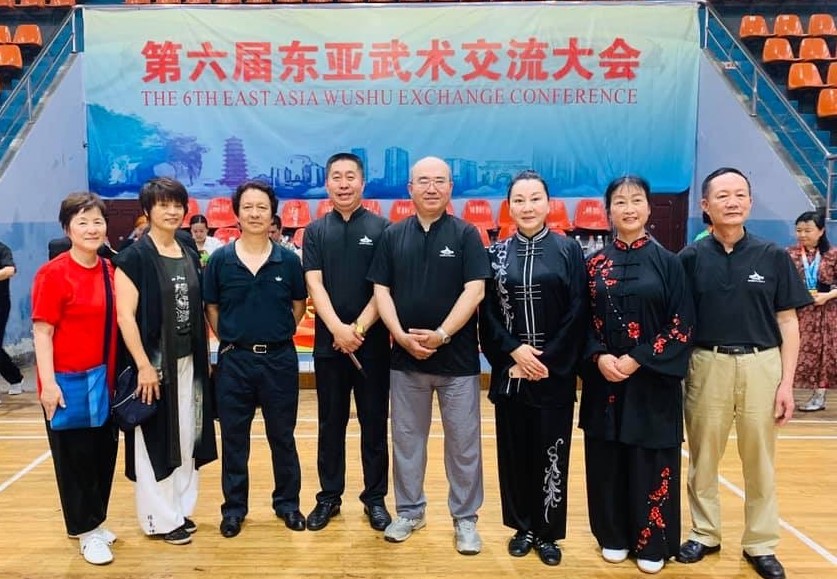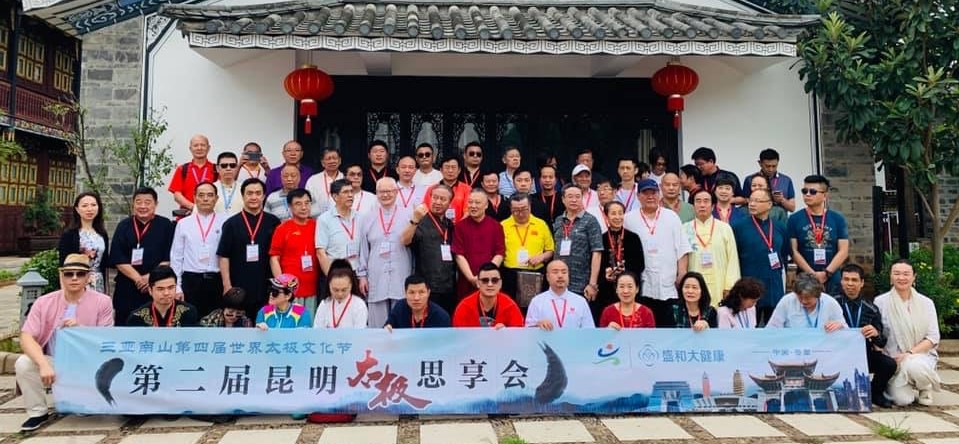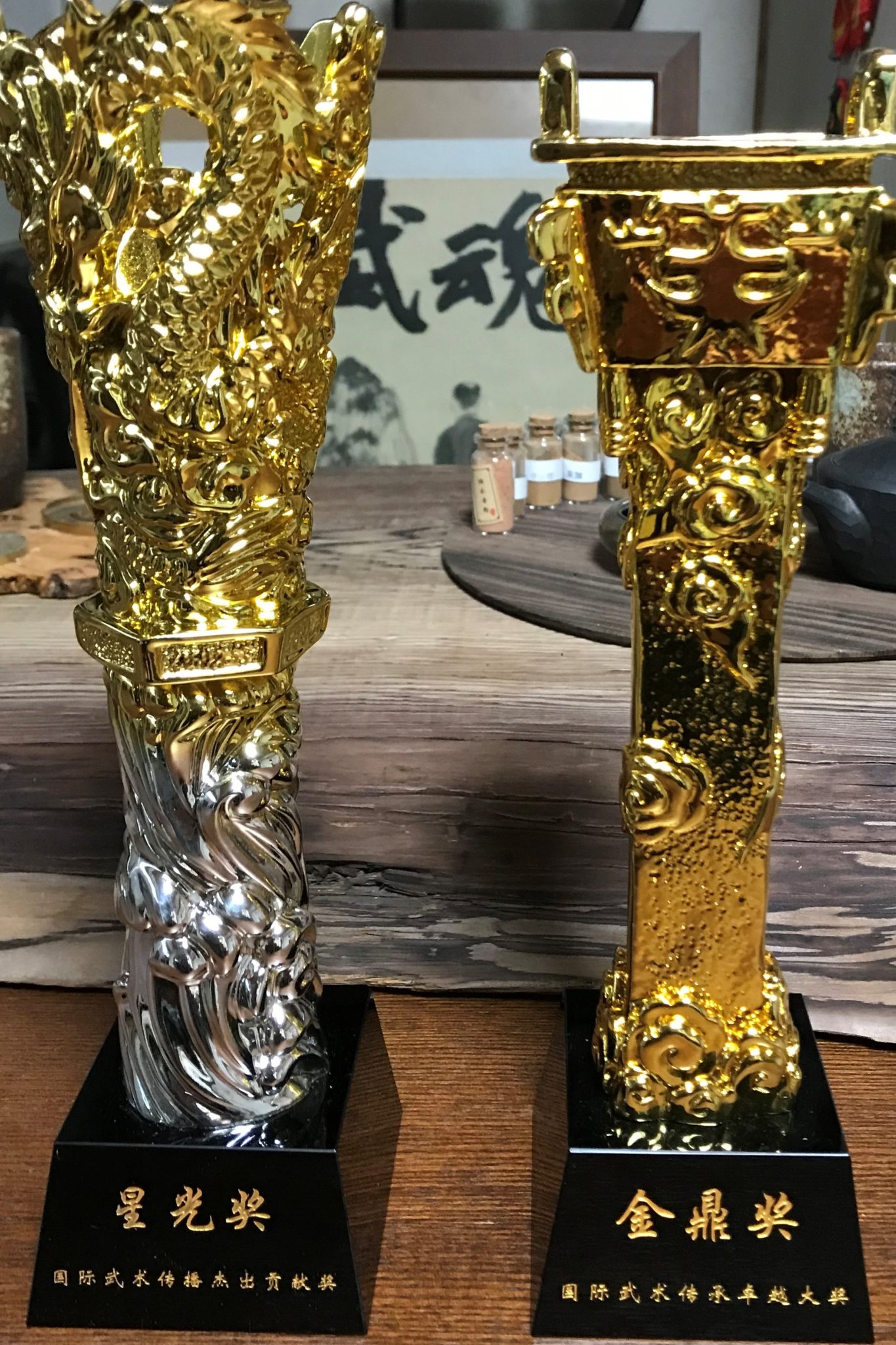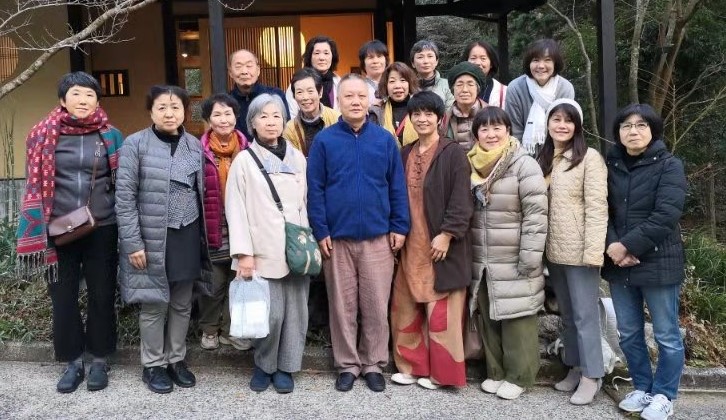 ① 期日:2019年4月~2020年2月
◆ 特別教室開催
A..初級教室(太極拳基礎コース 対象:全会員)B.中級教室(太極拳応用コース 対象:全会員)C.上級コース(内家拳コース 対象:指導者、中級資格取得者)指導者教室(対象:中級資格取得者) 
参加人数 : 57名
① Date:April 2019 to February 2020
◆ Special classes
A. Beginner Level Class (Taiji Quan Basic Course for all members) B.Intermediate Level Class (Taiji Quan Applied Course for all members)C.Advanced Level Class (Neija Course for instructors and those who have intermediate qualification) Instructor Class (for those who have intermediate qualification)  
Number of Participants : 57
② 期日:3月23日~3月27日
◆ アメリカファミリー来日(6名)
櫻井神社境内にて全体の交流会を開催。その後サイトピアホールにてデニス先生の指導の元、峰拳等レクチャーを受けました。その他、愛宕神社での朝練や湯布院旅行等、共に充実した日程を過ごし親睦を深めることができました。
参加人数:約65名~70名
②  Date :March 23 to 27
◆ Chen Pan Ling Miami USA visited Japan Family (6 people)
The exchange meeting was held in Sakurai Shrine in Itoshima Fukuoka. Then, Master Dennis gave us lectures such as Fong Quan at Saitopia Hall. We had wonderful and friendly time together through morning practices at Atago Shrine, an overnight trip to Yufuin and so on.
Number of Participants : approx. 65 to 70
③ 期日 :4月21日~4月23日
◆ フランスファミリー来日(20名)
21日:北九州中国武術発表交流会にフランス・日本の合同チームで出場しました。その後、唐戸市場~巌流島観光にて福岡の名所を訪れ互いの友好を深めました。(38名) 22日:研修会を開催して和気あいあいと相互練習に取り組みました。(am中央体育館41名、/pmももち体育館36名)
参加人数:約40名~50名
③ Date : April 21 to 23
◆ Chen Pan Ling France visited Japan Family (20 people)
On April 21, the joint team from France and Japan families took part in the 34th Kitakyushu Chinese Martial Arts Performance Exchange Meeting in Kitakyushu. Then, the members visited nearby tourist spots such as Karato Market and Ganryu Island. (38 people). On 22, the workshops were held and France Family and Japan Family ptracticed together in a friendly atmosphere. (41 people at Chuo Gymnagium in the morning and 36 people at Momochi Gymnasium in the afternoon)
Number of Participants : approxi. 40 to 50
④ 期日 : 5月18日~5月19日
◆ 第六回東亜武術交流大会in中国桂林
たくさんの太極武術の友達と一緒に素晴らしい時間を過ごすことができました。(参加者:先生、一木さん)
④ Date : May 18 and 19
◆ The 6th East Asia Wushu Exchange Conference in Guilin China
Teacher Chen and Mr Ichiki had a wonderful time with many Taijii and Wushu friends.
Number of Participants:(Teacher Chen Xiaoyi and Ms Ichiki)
⑤ 期日 : 7月1日~7月7日
◆ 雲南省国際太極論壇会
太極論[(王宋岳} 吟詩 (崔仲三) ~太極有名選手の表演~中国古琴演奏  蘇自芳先生も参加して素晴らしい表演でした。
参加人数 : 陳先生1名参加
⑤ Date : July 1 to 7
◆ The 2nd Kunming Taiji Sixiang Conference
Taichi theory(Wang Zhong Yue) reciting of poems(Chui Zhong Shan) ~performance by famous Taiji players~Chinese Guqin performance   Shifu Shu Zhi Fang also joined the wonderful performances.
Number of Participants : 1: Teacher Chen Xiaoyi
⑥ 期日:10月26日~10月30日
◆ 第四回世界太極拳文化祭
中国海南島三亜(仏教の聖地)にて開催されたこの太極拳イベントは、近代中国並びに全世界においてもっとも大規模で各流派の伝承者、名家が参加する内容豊富で水準の高い世界的な太極拳の大会です。第四回三亜世界太極文化祭の表彰において、私たち陳泮嶺伝統武術世界家族は、(中國傳統武術国際傳承、傳播貢献奖)世界的に太極拳を伝承、伝播した事について 表彰されました。
参加人数:陳先生1名参加
⑥ Date : October 26 to 30
◆ The Fourth Sanya Nanshan World Tai Chi Cultural Festival
This Taiji event held in Sanya, Hainan Island, China (a sacred place of Buddism) was the world largest Taiji festival. Successors of various traditional Taiji schools and Taiji masters took part in this high-level Taiji festival provided with many cultural activities. Chen Pan Ling World Family was awarded at the festival award ceremony for passing down and distributing Taijii widely in the world.
Number of Participants : 1: Teacher Chen Xiaoyi
⑦ 期日:11月2日~12月4日
◆ 2019劉皢凌先生による伝統武術交流勉強会
世界的に著名な武術家である劉曉凌(リュウキョウリョウ)先生をお迎えして交流勉強会を開催しました。世界において超一流の伝統武術や養生法を学ぶと共に、その崇高なお人柄に参加者一同魅了されました。
参加人数 : 約50名
⑦ Date : November 2 to 4
◆ Traditional Wushu Workshop by Shifu Lui Xiau Ling
The family invited world famous Wushu Shifu Lui Xiau Ling and his workshop was held. The family learned best traditional Wushu and regimen in the world. All of us were facinated by his noble personality.
Number of Participants : approxi. 50
⑧ 12月3日~12月6日
◆ 余功保先生の太極文化講座in珈道庵
中国太極文化学者の余功保先生をお招きして、三瀬の珈道庵にて太極文化講座を催しました。講座テ一マは太極とは何ですか?の問いにに対して、とてもシンプルかつ優しい言葉で太極拳練習をする上で三つ大事な事(捨重,净空,流通)~太極拳が上手になる"密碼"(パスワード)~最後は皆さんへのお祝い(太極拳との出会いは知恵、人生における健康、素晴らしい人間や出来事の出会いである)である。と述べられ、素晴らしいスピーチに皆拍手喝采でした。
参加人数: 18名
⑧ December 3 to 6
◆ Lecture on Taiji Culture by Mr. Yu Gong Bao in Kodoan
Mr. Yu Gong Bao who was an eminent scholar of Taiji culture gave the family a lecture on Taiji culture at Kodoan in Mitsuse. Three important things in practicing Taiiji Quan: putting down the weight and load, emptying the mind and body, circulating ji in the body. He also conguratulated the family with the words that practicing Taiji Quan means encounters with knowledge, health and wonderful people. His speech was well received among the family.
Number of Participants : 18
⑨ 期日 : 12月14日~12月15日
◆ 武当太極拳十三勢・武術表演と太極拳講和参加
講師:武当三豊派第十五代伝人・武当道家功夫館道長の陳師宇氏により、三豊十三勢を習う講習会に参加しました。練習の後は、陳老師による表演や、四川武術クラブ会員による五行気功表演や歓迎表演が行われ、2日間に渡り充実した練習ができました。(参加者:先生、一木さん、竹谷さん)
参加人数 : 42名
⑨ Date : December 14 and 15
◆ Class on Wudang Taiji 13 Styles、Wushu Performance and Lecture on Taiji Quan
Teacher Chen Xiaoyi and two members took the classes of Shan Fong 13 Styles taught by Shifu Chen Shi Yu, the fifteenth successor of Wudang Shan Fong and the director of Wudang Taoist Kungfu Hall. There were a performance by Shifu Chen, a Five Quigong performance and a welcome performance by members of the Shichuan Wushu Club after the class. We learned and practiced for two days.
Number of Participants : 42 (including Teacher Chen Xiaoyi, Ms Ichiki, Ms Takeya from the family)